Previously on James315.Space… Highsec miner Gripen ANM was disturbed by Torgo Tahn bumping his Orca, demonstrating best practice techniques for Zopiclone. Gripen panicked, abandoning his Orca, five augmented mining drones, and an illegally modified interceptor. Although Gripen didn't want that Orca anyways, he needed his Stiletto, in order to escape Highsec. When Torgo deduced that Gripen must have a blingy capacitor implant, Kalorned and Tweeps decided it was time for a formal pod inspection.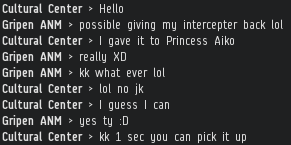 Gripen was alarmed when a Tweeps alt, Cultural Center, explained that the interceptor had already been offered as tribute unto Princess Aiko, the official heiress to James 315. However, if Gripen didn't get the Stiletto back, then it would be impossible to dodge gatecamps and warp bubbles. How would he escape Highsec? Fortunately, Aiko graciously offered to return the Stiletto. Therefore, Gripen hurried back in a Condor, but Cultural Center was alarmed by Gripen's failure to purchase a mining permit. As Gripen's pod warbled unsteadily in orbit around the interceptor, Kalorned sent a K-name to investigate.

Gripen kept trying to scam Cultural Center, attempting to board his interceptor, before paying his taxes. Eventually, the frustrated Gripenbear clambered aboard his Condor, and prepared to depart. At this very moment, Krominal suddenly appeared in a gold-plated Amarrian destroyer. With a holy blaze of multifrequency photons, the Condor's sins melted away , once again revealing Gripen's naked pod. Alas, CONCORD bots quickly arrived, and Krominal was unable to conduct a closer inspection of the pod. Gripen warped off, amplifying everyone's curiosity about just what exactly was hidden inside.
For any normal individual, none of this would have happened, because normal people don't mine (especially not in Highsec). In the rare instance, when someone is foolish enough to mine in Highsec, they don't usually abandon their own Orca (which typically does not contain an overclocked interceptor). Even in such a case, a sensible person doesn't subsequently return, in a desperate attempt to recover lost assets. However, Gripen was rather abnormal, which meant he was perfectly normal in Highsec. Therefore, he once again tried to scam Tweeps.
Would Tweeps fall for Gripen's trick? Would he trade an interceptor for just 15'000'000 isk? It was a tempting deal, but Tweeps had an even better idea. Perhaps Gripen would return for a photoshoot, and Tweeps solemnly promised that Gripen would be the focus of a multipart blog post. Gripen was flattered, and decided to turn his pod around and come back. Another apple, drawn by gravity, was about to fall.

To be continued…
***
As you know, the official state funeral for James 315 will be in Halaima, on Thursday July 23, at 23:00. Zaenis Desef started crying when he heard that James was dead, but he finally pulled himself together. Our leadership will lead us, and we will be fine. Always!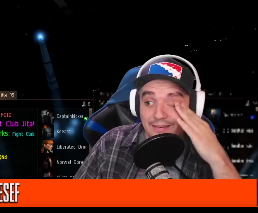 Well, let's ask a random Highsec miner, what do the miners think about the death of their beloved Saviour?
Thank you Ruth! You know, some miners have been questioning my legitimacy, and I've been told it's important to demonstrate my borthersome tendency for shameless self-promotion. Indeed, check out this ringing endorsement from EVE Online's top twitch streamer, brought to you by the Coca-Cola Foundation!
Wow, these are some big shoes to fill, but I've got some big feet! James couldn't have done any better than to pick me as his one true Saviourette. He saved a lot of people, but who saved James? That's right, that's right!

***
Anyways, I wanted to make sure that James knew he was dead, so I went and tracked him down on my livethot stream. He confirmed that he IS dead, and he will be attending his own funeral! Awesome!

Speaking of funerals, there has been some concern that Barry-Jean "Bert-Jay" Smithlesmoor (the man behind James 315) has actually died in real life. Don't worry friends, Bert-Jay is just fine, and has merely moved on to a more lucrative and respectable hobby.