I bring you dire news.
Some miners have declared themselves to be in a state of rebellion.
Kay AllardLiao has thus composed a manifesto.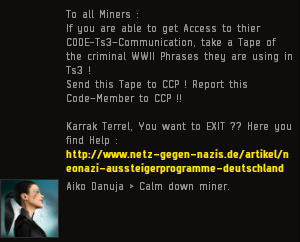 If you want to chat in Teamspeak, just let me know.
Buttercup Potemkin went deep undercover to meet the rebel leader.
Buttercup feigned concern about Princess Aiko's consolidation of power.
AllardLiao was intrigued by Aiko's ethnicity.
He was surprised to learn of her Palestinian heritage.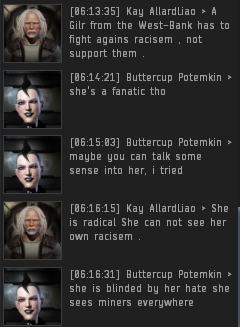 Girls from the West Bank should not support space terrorism!
AllardLiao loves the newbros, but Aiko just wants to kill them all.
If newbros can't win while AFK, they will quit the game.

Nobody plays Wolfenstein anymore. Gamers hate violence!

Kay watched in horror, as Aiko continued to slaughter the innocents.
Alas, Aiko cursed him, and the rebel leader became incoherent.