Previously on James315.Space… Vasalinda Fingerback was unable to tell the truth, and she was also unable to survive Highsec. An elite team of CODE. social workers sought to help Vasalinda come to terms with her indecent lifestyle.
Alas, Vasalinda needed help accepting help.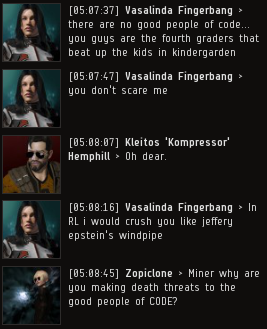 It's hard to imagine a race more disgusting than the Highsec miner.
Vasalinda dropped a bombshell on the Why Was I Ganked? channel. Not only was she a badass miner, classy lady, and internet tough guy – but she was also an elite amphibious assault specialist. Normally, when someone tells me that they have served in the Armed Forces, I tend to believe them. However, I was struggling to accept this miner's story, and doubted that Marines are common plebs.

It always pains me to accuse someone of false valour, because it's possible that an absolute moron somehow slipped through the intensive recruitment process. However, Highsec miners are notoriously dishonest. We've seen our fair share of miners who dropped deep behind Soviet lines, ganking Albanian tanks with their trusty M47 Dragon ATGM, but we've also seen a few miners who exaggerated a little bit.
I've never met a U.S. Marine who felt bullied by space cartoons.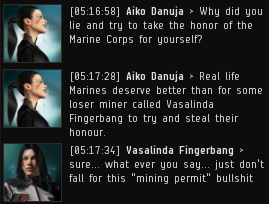 This was Vasalinda's chance to shame ME. She might have called my bluff, describing her heroic defense of Hue, or her brilliant maneuver at Chosin. She could have described the bloody perimeter at Henderson field, or her courageous action at Fallujah. However, those battles paled in comparison to Vasalinda's concern: the mining permit.
The truth often reveals itself.
Fortunately, Vasalinda was having fun and wasn't upset or bothered.
It is often difficult to feel any pity or sympathy for the hapless miners.