Krig Povelli put Slim on a diet.
However, Slim wasn't happy.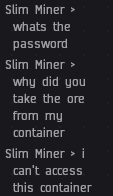 Oh no!
Would Slim ever gain access to the conyainer?
Would Slim ever see his precious ore again?
What do you think happened next?
Scroll down to find out!
Are you ready?
Did you guess correctly?
ReeeeEEeee.
Slim tried to steal Krig's ore!

Another happy ending.