EMERGENCY ALERT
That's right, the fun police are here. Dock up!
***
You know, back when I dated James, he caught me hustling Krig. Ok! So things were SUPER awkward. It got even more weird, after I formed the most successful World of Warcraft griefing new player assistance guild. We broke up eventually, but stayed in touch, and James knew exactly whom he wanted to expand his glorious EVE Online empire. There was only one problem. Can I be trusted not to just seduce men, take their stuff, and act really vain and self-centered? I mean, like, yah, of course.
Calm down boys.
Ok, look, here's what we are gonna do.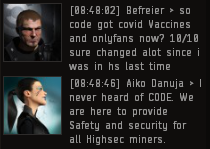 Once you invite a woman into your house…
…she's gonna re-decorate.