Ruh roh!
Miners aren't scared of us.
Gankers, beware!
Carebears have a special friend.


They've got a very special little friend.
They will never ever pay us!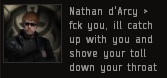 Where did we go wrong?
We'd better pay, or else!
They are going to rape us with pizza, in the mouth!?
When will we be destroyed?
Oh nooooooo!
Ahhhhhhhhhhhhhhhhh!