Prince Puppers wanted a Gila.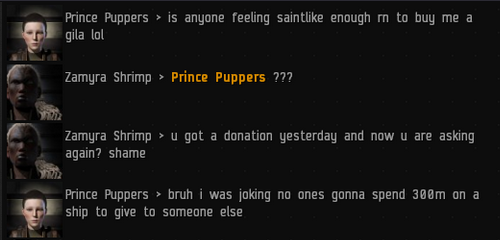 He wasn't joking.
Puppers wanted to be a Gila main.
Oh boy, a discount Gila!
He sold everything he had…
…to buy a Moa.
Oh, it's a free Moa…
With premium insurance!
So Puppers went to fetch his new Gila.

GrrrrrrrrrGROONSgaaarRRrr/

Puppers tried to get around the grief blockade.

So he employed null security comms.
This went as well as one might expect.
Puppers even tried a wormhole!

His friends were happy to help.

Meanwhile, Sargon was at the foot dentist.


When Sargon returned, he noticed the problem.

The Goons were using an isk tracker.

So Sargon cleaned Puppers out.
Eventually, Puppers contacted me.
He seemed confused.
The next day, everyone wondered about Puppers.

Apparently, his new home was in Thera?
Who told him to go there?
Eventually, Puppers just bought a Gila.

Another happy ending!
Cheerzah!