BREAKING NEWS
CCP Convict was recently cited for illegal mining.

Loyal citizens quickly reported him to the authorities.
Convict only pretends to be a lawful miner.
Bystanders watched uneasily, as Convict began digging unsafely.

Not surprisingly, Convict is a known criminal.
Several bears were concerned Convict might be a victim of cyberbullying. They urged him to move to safe nullsec, where everybody is polite, and nobody pays rent.
We now return to our regularly scheduled programme.
Cargo Bandit spotted an excessively laden over-dimensional Sigil.
The driver was predictably abusive.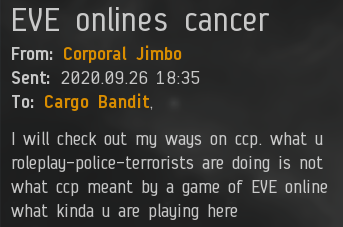 Supposedly, what CCP meant by a game of EVE Online, is that everyone can undock and endlessly AFK as they acquire easy isk. Surely CCP desires a utopia of carebearism, a roleplaying game without any roleplay-police-terrorists. What do you think? Is the CODE. a greater concern than the Chinese xeno virus (aka Wu flu)?

Back at the station, officers listened as the defendant tried to justify his actions.
The charges were most serious, with grave consequences.
Count 1: Transport of illegal contraband, with intent to distribute.
Count 2: Failure to maintain an undock permit.

Count 3: Inappropriate conduct, unbecoming of a Highsec citizen.
To be continued…