In the darkness, a voice cried out.
HeranMan was fed up with space bullies.
However, Chad worried about this young miner.
EVE is just a game, but with real-life consequences.
Experienced New Order agents recognized an opportunity for FREE tech support.
Like William Rageclaw, Heran began a DDOS offensive.

A few cynics doubted Heran's ability.
However, Heran revealed his ability to hack Aiko, via the EVE client.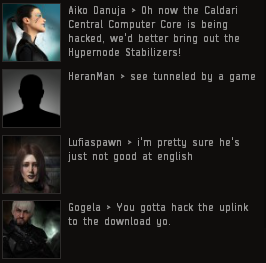 Finally, someone was taking a stand against autism.
Like many all miners, Heran has a substance abuse condition.
When Shekel tried to use facts, Heran snapped.

Can CCP servers handle the DDOS?
Never go full bot.
Heran offered one last surprise.