Believe it or not, but EvE Online is a PvP game. Players fight over resources, in a battle royale. As an analogy, consider the game Fortnite. In the image below, you can see a miner, harvesting ore.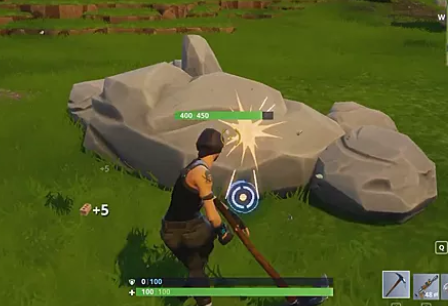 Of course, there's always a little cutie with a ponytail, who won't hesitate to shoot a hapless miner.
Carebears whine and moan endlessly, complaining about those meanie "griefers" who engage in PvP. One crybaby recently gave me permission to share his tears with you.
Thank you Hateless.
Hateless sees no problem with "griefing" in nullsec, but he cries foul when someone touches him in Highsec.

I know what you are asking.

Earlier today, Adrian Vexier decided to bump an Orca.

I could have shot Hateless (again), but I was already shooting someone else, so the crybaby miner was perfectly safe. Ultimately, nobody ganked Hateless, but he is still crying.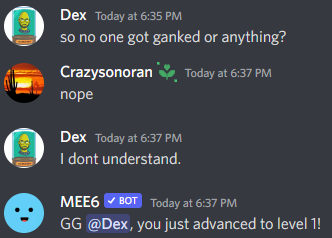 Nobody shot Hateless. Nevertheless, the mere presence of another player was enough to "provoke an emotional response". Hateless was frustrated that another player was playing the game. So he sat down next to his motorcycle, and quit his space "job".
EvE Online "stream fleet" partners are coddled by CCP. They get free handouts, free plex, free skins, and free advertising. Apparently, it's just not enough. Hateless merely wants to get paid for not playing, with no hassle from the other players.
Minerbumping is a timeless tradition. Consequently, I have no idea how Hateless can feel entitled to mine in Highsec, with a fleet of Hulks, and yet he throws a temper tantrum whenever someone bumps his Orca. What does he expect is going to happen?

Apparently, if you declare Highsec mining to be your "job", then you can claim harassment because other players are interfering.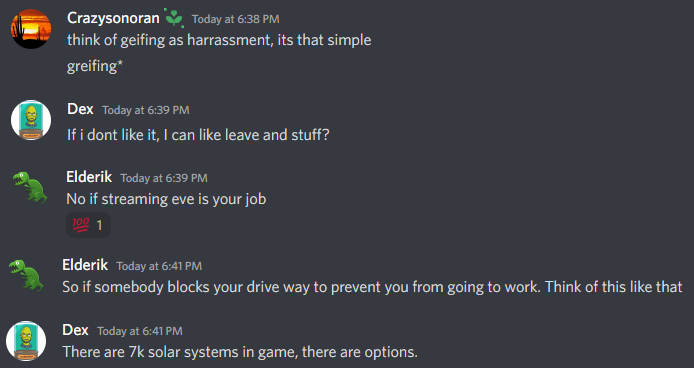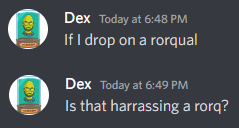 Hateless simps rallied to his defense.



New players deserve protection!
Everyone is discussing how to stop gameplay in a game.
Oh boohoohoo, the miner can't maximize his isk/hr.
Honestly, CCP should stop enabling carebears.

Highsec miners should be banned from the Partner program.
They can go play a different game.

Seriously, just go.
It's literally a game.

I will give the final word to Dex.