Listening to: Dark Techno 2018
Previously, Erotica 1 was permabanned.
Afterward, he developed a cunning plan.
He decided to get rich, quick.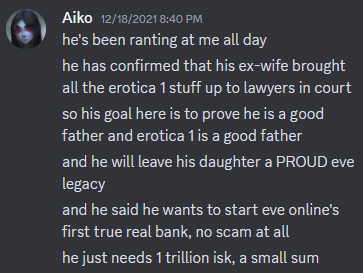 PLOT SUMMARY: Our anti-hero, Erotica 1, permabanned from EvE Online, wipes the sweat from his brow. "Eureka!", he exclaims whilst committing securities fraud, selling fake cryptocurrency NFTs in order to purchase CCP and unban himself. This would prove to the courts, that Erotica 1 is a successful businessman. Along the way, he planned to make a trillion isk, through a legitimate galactic bank.
As an initial first step, he exploited his own IRL infant daughter, and tried to recruit a few EvE players.
His 'friends' were concerned.
Surprisingly, the scam worked.
Erotica (aka Justin) sold an NFT buy-in to his first mark, rounding $5000 up to $30000, with the expectation of future profits.
This is a story of sex, crypto, federal law, and crazy.
As a woman, I often feel uppity.
Am I a space Karen…
…or a reasonably concerned citizen?
I decided not to commit securities fraud.
No thank you!
Buckle in, it's gonna be a WILD RIDE.
If subpoenaed, I will testify in court.
To be continued…