We will be hosting the Celebration of Life at 23:00.


Dignitaries and notables will assemble at the Halaima Ice Palace.
There will be a live stream on the official CODE. YouTube. 

New Order Logistics was on patrol in Isanamo, where Your Awesum Brutha discovered a goofus, just two jumps from Jita! Remembering his training, Brutha brought neutron hellfire upon the vagrant . This wasn't lee's first arrest, nor would it be his last.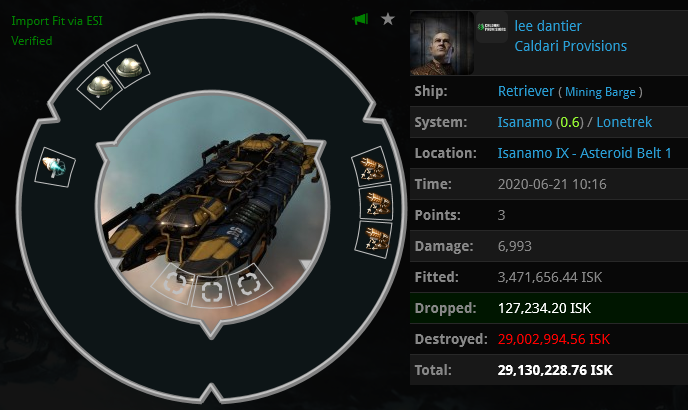 Brutha assumed the miner learnt a valuable lesson, but was surprised when lee wrote a snitty email, bragging about all the 'loot' he acquired. The official Saviourette of Highsec was truly alarmed at the notion that miners might be profiting from ganks, so I pulled out my trusty pink calculator, and crunched the numbers. Assuming lee had platinum insurance, and assuming he recovered all loot, his maximum total gain was negative 8.865 million. Nevertheless, lee was convinced he was getting one up on the 'ol Code enforcers.
Just to be absolutely certain, so there was no confusion, I went back and checked my numbers. I tallied up all the costs and expenses, carefully conducting a rigorous review of the data. I repeatedly simulated the destruction of lee on a series of platforms, reaching the same exact conclusion fifteen hundred times in a row, and thus began to develop supreme confidence in my impeccable financial analysis.
Brutha provided these same calculations to lee, noting that lee couldn't possible have acquired much loot, since Brutha's loyal alt recovered the most valuable items (namely, three light neutron blasters and an illegal mining upgrade). Lee knew this to be true, and he began to snarl and spit, like a rabid raccoon.
Brutha regretted lee was no longer interested in postgank financial analysis, but he accepted lee's wishes, and offered a sincere handshake. This only triggered lee, who was infuriated to realize that not only was Brutha a good player, and a reliable accountant, but Brutha was also the better sport.
Our ganking hero went on to have a real life, yet lee had nothing to do but stare at his EVEmail inbox. After half an hour, lee decided to fire another salvo.
A week later, lee dantier was astonished when his Rattlesnake exploded!!!
His friend's Rattlesnake also exploded!
Why?????
To be continued…