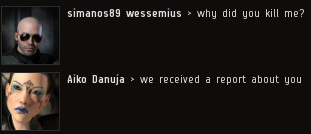 As my level V file management system teeters on the brink of collapse, I look for inspiration in the tier III archives, which are intermingled with maps of Gaza and the West Bank. Without further ado, here's a flashback straight out of the Aiko files.
simanos6989 was in trouble. His cargo manifest contained restricted evaporites, and he had no idea what they were, or why they were aboard his vessel.

simanos couldn't explain himself.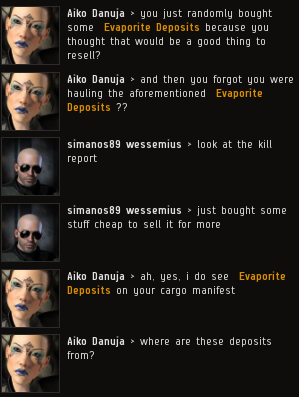 Princess Aiko (just a mid-level bureaucrat in a stagnant dying alliance) rolled her eyes and admired her nails, whilst the miner struggled to provide an excuse.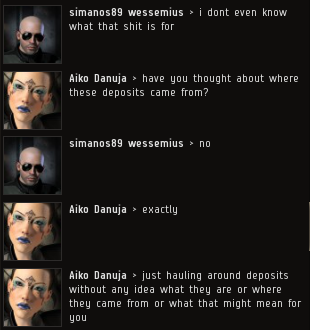 Evaporite smuggling is a serious criminal offense.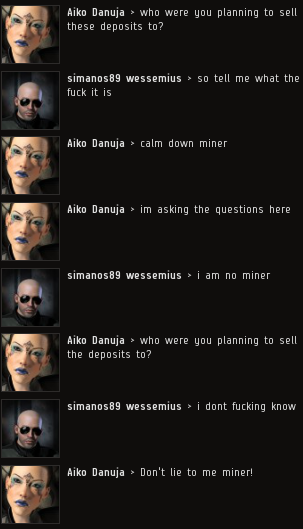 The interrogation proceeded, according to protocol.
Aiko was frustrated. The laws of Halaima were weak, a pathetic formulation which only permitted her to gently slap the nasty miner's dirty wrist.
Aiko's fellow agents were equally dismayed, wondering whether it would ever be possible to achieve any semblance of law and order.
Aiko wondered if it might be possible to PvP miners out of existence.
They say, somewhere out there in the dark void, simanos89 continues to autopilot in a ghastly hauling ship. He travels from system to system, treating EVE like a science-fiction version of Euro Truck Simulator. James 315 may have given up altogether on achieving any success, but Aiko is not yet ready to surrender.