Listening to (while dunking Ventures): Spartaque
Previously on James315.Space… The new Goonswarm emperor in training is quantum, aka Aiva Naali, aka 140, aka Fighter Jets GuitarSolo, aka anaCheeya ANARKY, who decided one day to demand a situation report from Fleet Command.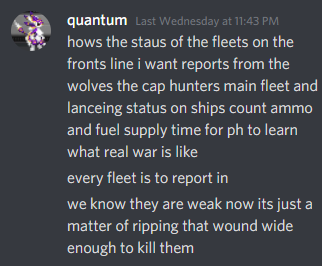 Fortunately, his martial instincts enable him to grasp the situation before his Lieutenants can even respond. Our Goonfuehrer grasps the galactic battlefield with what the Emperor Napoleon described as the 'coup d'oeil' or 'stroke of the eye'. With a mere glance into space, he can readily surmise the optimal strategy.
James was always a simple man, and he often railed against the so-called N+1 problem. However, Agent Anvil understands that you can always +1 to infinity, which means that an n+! approach will inevitably one-up your opponent. It is a doctrine of sheer brilliance, and sometimes brute force is what we need. He also issued a spur of the moment doctrine update, with an inspiring speech. Sun Tzu couldn't have said it better.

Unfortunately, the High Command struggled to keep up with this voluminous content, and let me tell you from experience — running a galactic space empire is a lot of work! When 315 aka Tweeps aka Loyalanon aka Kalloornded aka Globby aka Chribba came into Teamspeak and offered to sell me the mighty CODE. alliance, provided I agree to write the blog and promptly transfer the $23,500 I got from Kelroth, I thought it sounded great. Like all that good karma was finally catching up to me.

However, sometimes I wish I bought more space shoes.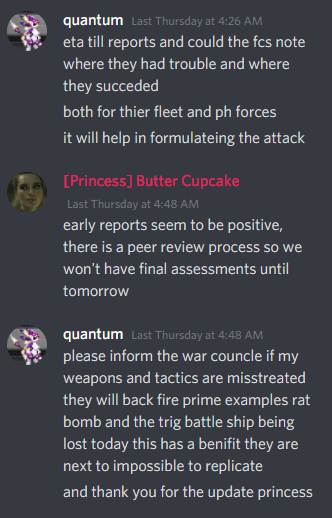 Quantum was no mere puppet, and he casually let the Goon Navy know his supper weapons were built with hidden mechanics. If they were ever misapplied or turned against the 'lil bullet, hellfire would rain down upon Fortress Delve.
Hours turned into days, as Princess Aiko composed the final draft.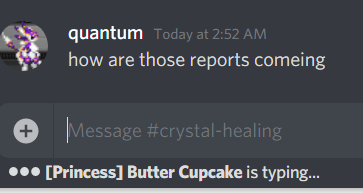 Good news! The elite strikeforce Wolf Squadron was still able to muster nearly 96 combat ready vessels, penetrating deep behind enemy lines in heroic suicide attacks. Meanwhile, only a quarter of the fleet had been lost to theft, defection, and outright incompetence. It was, as they say, "within parameters". There was only one concern, the Wolves wanted to swap out their cloaks and upgrade to maximum fighting fits. With an imperious tone, the Kingpin waved his hand and unleashed the Wolves!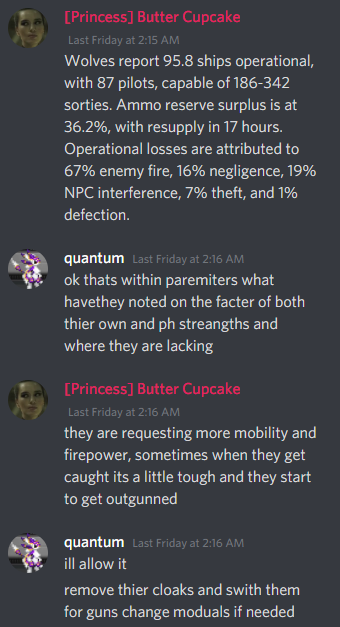 Quantum still needed reports from Lanceing Team, Main Fleet, and the Venerated Old Guard League of Spooky Cap Hunters.

To be continued…
Do Your Own Thing
On Your Own Terms
Follow Your Curiosity
Get What You Came For
There Are No Constraints
Jump
Jump
Jump
Jump
Jump
Jump
Jump
Jump
Jump
Jump
Jump
Jump
Kill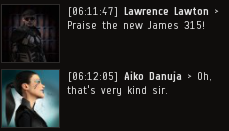 Welcome to EVE!